yehey!! we won! 2 - 1 na!!!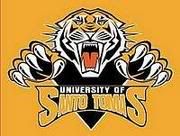 kudos to the UST GROWLING TIGERS!
for the splendid display of footwork and amazing ability to score!! i must say, winning against the FEU Tamaraws really made a victory boost for the tigers... if they play that well every single game, we may have a chance for a UAAP Basketball Title. i wish. but im really positive about the games. i am ready to give my utmost support for the tigers now, unlike my first three years in college where the only support i gave was to the salinggawi dance troupe and the girls volleyball team.
now, i think i'm opening my heart for the basketball team.
ababou was not shining as he was predicted to be, instead it was another rookie jervy cruz, who was delivering the points to uste.... anyhow, i am still waiting for ababou to shine.
+++
tomorrow is the biggest, most splendid, fantastical, fanatical, outrageous, stupendious, marvelous, amazing, extreme, diabolical fictional show on EARTH !!!!watch out! PRESIDENT GMA WILL GIVE HER STATE OF THE NATION ADDRESS!!!!!
be prepared to be attacked by your seasonal diabetes, for this will be the sweetest, most sugar-coated words you'll ever hear!!!!
insulin intake is a must tomorrow!!!
stock up on your charantia!!! hahaha!!